Official online shop of Mymy Illustrations.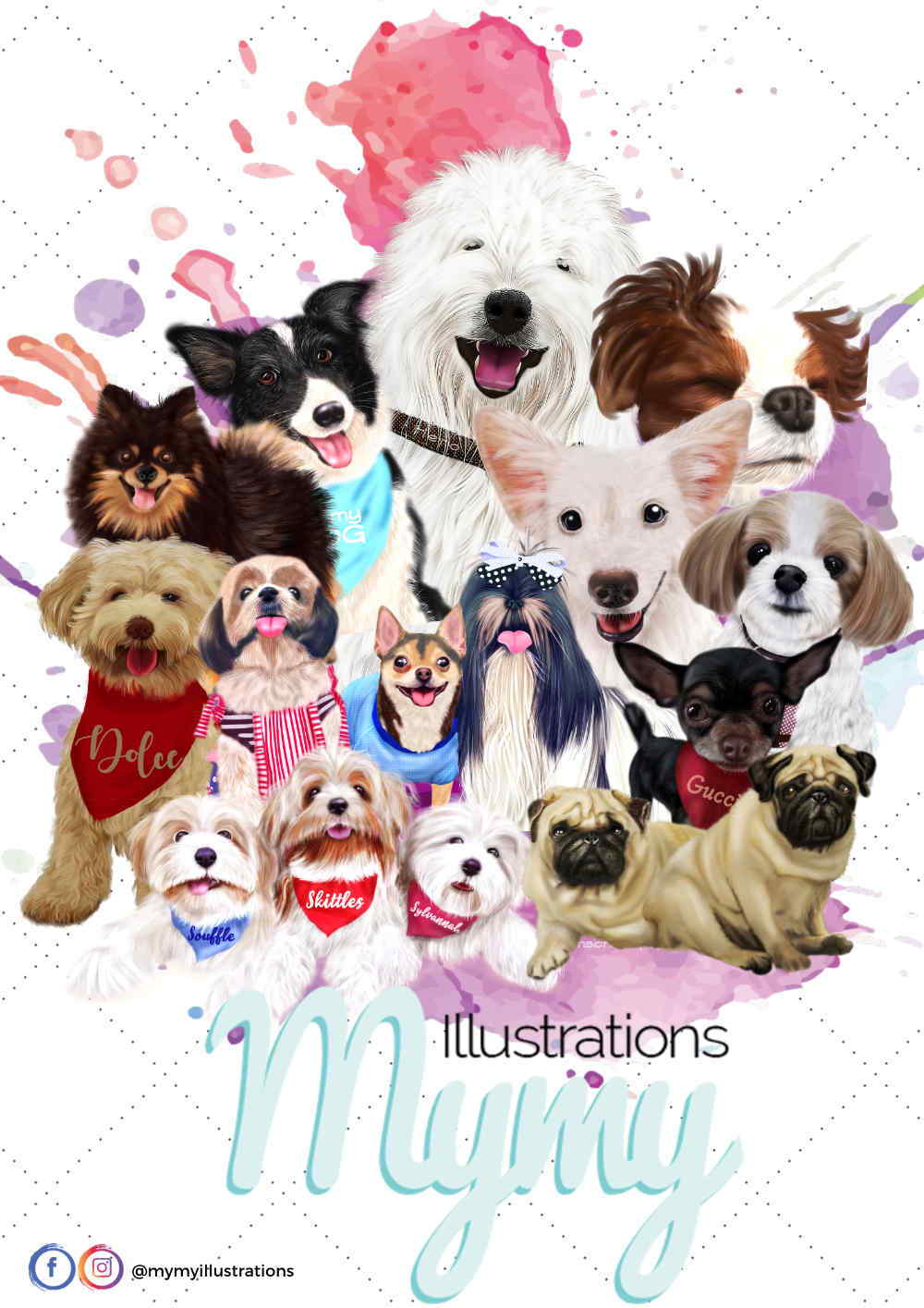 Creator Mymy Bulgian reveals who helped her find her art niche!
Mymy Bulgian is a 29 year old IELTS Academic Writing Teacher from Davao City who can sketch anything she can think of. She tried many things before finally finding what she's into. Her four dogs: Hero, Echo, Yuri and Yuna have inspired and helped her find her art niche which is pet illustrations. Read our conversation below as she tells how she started doing graphic design and soon doing her own pet art collection.
How did you start in graphic design?
"I've always been a traditional artist. I started getting into digital arts to expand my art media expertise. When I started learning Corel and Adobe, I liked it so much that I decided to transition or stay in this medium long-term."
Who taught you drawing or graphic design?
"I can say 80% self-study and improvement, 10% was school (I belong to an art class in high school), 10% would be some of the training I attended. I'm better when learning alone."
Who inspires you to continue your passion for graphic designs?
"Art in general inspires me. Definitely my father. I got my inclination to drawing from him. In terms of my current stint in graphic design, well, that would be my dogs because I'm a pet-artist."
Artists who have inspired you?
"In digital art, the first thing that popped up in my mind is Katnipp Illustrations from UK. She does wonderful cutesy illustrations (not pets) and has a popular line of Etsy merch, such as prints, cards, enamel pins, that I adore so much. I want to be a successful art and merch creator like her."
How does it feel when you are drawing or sketching?
"Drawing, it's part of my identity. It makes me feel completely "me", in my zone, in my own universe. Without it, I'm lost, I'm nothing."
Do you sketch anything or are you specializing in one area?
"I can sketch anything but currently I found my niche in "pet illustrations" particularly dogs."
What does people say on your sketches?
"I get positive feedback. The only critic I have is myself. The people around me are supportive and have nothing but well wishes for my craft."
What is the most important achievement you've reached through of sketching?
"That would starting my own business on pet illustrations and merchandise. I've tried so many things before, arts and other interests I have, but didn't work out. So I'm really thrilled to finally find my niche in pet art. It's a fusion of 2 things I love the most: dogs and arts."
What can you say to young ones out there who have talents in sketching and graphic designs?
"First, clarity comes from engagement, not thought. I mean you won't know if you really are passionate on something if you won't try to give all in of your time and resources. If you don't like it, it's a redirection. If you feel this is your area, invest on it to be your own best. Second, constant smart practice is key. If you're serious, you hustle. You give time no matter what you do in life."
Based on your experience, what are the struggles of graphic designers today?
"Pay, authenticity and competition. Some artists, especially newbies, are often victimized of low pay from people in the guise of "art's sake, exposure and portfolio" --- we must know our worth and shouldn't be succumbed to opportunists who don't know the time and sweat spent on doing a piece."
Authenticity is always questioned among artists given that in a digital world and online portfolios, art copying is prevalent. Though an artist is innocent, he/she may be accused if someone else happened to have the same idea. Being authentic in voice, technique and identity should be solidified if an artist wants to sift through the noise of the art/design world.
That leads to competition. There is always an artist with lower rates and better than yourself. Sadly, non-art people would choose based on rates and not more on skills. So some outstanding artists would cut their pay just to vie against co-artists and make ends meet."
Why did you choose Merchiful to be a platform for your designs?
"It's new, it's fresh. Being a pioneer creator of this latest platform can somehow be a feather in one's cap [at least for me]. Apart from that, the company / brand is known to offer quality service and items; so I know "my brand" is in good hands."
What can the Merchiful customers expect from your designs?
"Expect #CutenessOverload with my dog-themed designs. Some followers I have urge me to expand to cats and other pets, and that's something to consider. For now, I resonate more on dogs because I love my furbabies and I know a lot of fur parents too. I want to share and celebrate this love through arts and prints/merchandise."
So if you are a fur lover or owner check out Mymy's shop now at mymy.merchiful.com and be amazed with her pet illustrations! You can also visit her accounts at Facebook.com/mymyillustrations and @mymyillustrations.